Annual Fiscal Service Letter to Chief Financial Officers
2018 Annual Fiscal Service Letter to Chief Financial Officers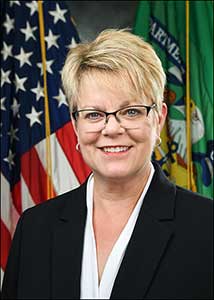 Hello Financial Management Partners,
Let me introduce myself.
As the new commissioner of Treasury's Bureau of the Fiscal Service, I am committed to working with all of you to create a vibrant future for federal financial management. I am proud of the Fiscal Service's long history of providing dependable and secure disbursing, collection, and accounting services across the federal government. I also recognize that the real 'front line' of federal financial management is in your agencies. You and your staffs perform the transactions, prepare the accounts, and interact directly with citizens.
That is why teamwork matters.
Together, we share a common vision for the future of financial management. All of us are committed to being efficient stewards of taxpayer dollars, providing great service to our customers, and making federal finances more transparent to the taxpayer.
With that common vision in mind, I will strengthen the processes by which we work together through:
Routine outreach meetings with individual agency CFOs;
Periodic updates to the CFO Council on financial management issues of government-wide concern;
A Financial Management Standards Committee where our staffs can explore common challenges in considerable depth;
An Innovation Program to collect innovative ideas from across government and fund prototypes in partner agencies; and
Redesign of the Fiscal Service website and the Treasury Financial Manual to reflect the customer's needs and perspective.
To promote teamwork and more clearly communicate Fiscal Service's future direction for central financial services, the "Future of Federal Financial Management" publication is provided to your agencies. Please visit https://fmvision.fiscal.treasury.gov to download a copy of the whitepaper.
In the attached document, I have summarized ambitious goals we hope to achieve in the next few years to strengthen the central processes of disbursing, collections, reporting and administrative services government-wide. Please review these goals and determine which are most beneficial to your agency. Think about how you might translate a goal into action within your organization. Please share the attached document with your staff and encourage them to contact the Fiscal Service at FMVision@fiscal.treasury.gov to learn more and get involved. The Financial Management Goals can also be downloaded when visiting https://fmvision.fiscal.treasury.gov/letter-to-cfos.html.
In the year ahead, we will be reaching out to you and your staff to discuss how we can work together to achieve these goals. I look forward to working with you as we shape the future of federal financial management.

DOWNLOAD THE GOALS