Transformation Stories
Treasury Disbursing Helps Department of Defense (DoD) Focus on Mission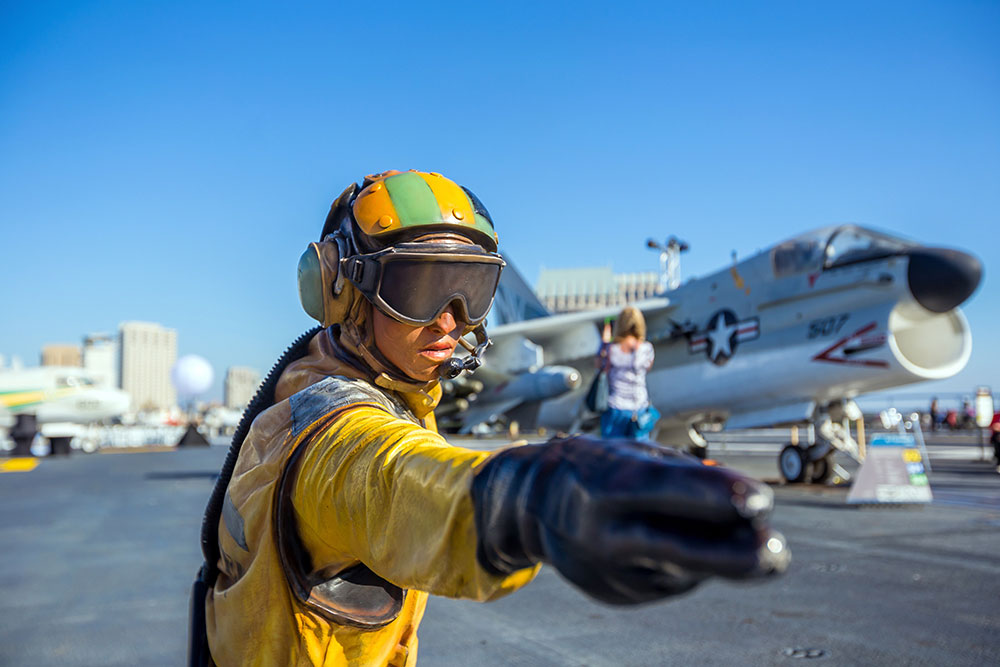 The Department of Defense's enduring mission is to provide combat-credible military forces needed to deter war and protect the security of our nation. 1
When we think about our nation's defense, we often don't factor in federal financial management. Yet better management begins with effective financial stewardship. DoD's 2018 National Defense Strategy seeks to drive budget discipline and affordability to achieve solvency, stating, "We must transition to a culture of performance where results and accountability matter." 2
Accurate and complete financial accounts give agency leadership the information needed for effective management, planning, and execution - all critical in an agency that is charged to lead the preeminent military power in the world.
Relying on Treasury for its disbursing is one of DoD's major efforts to modernize its financial management systems.
Assessing Financial Performance
In fiscal year 2018, DoD received $670.6 billion in congressional appropriations. The DoD budget represents almost half of the total U.S. Government's discretionary spending.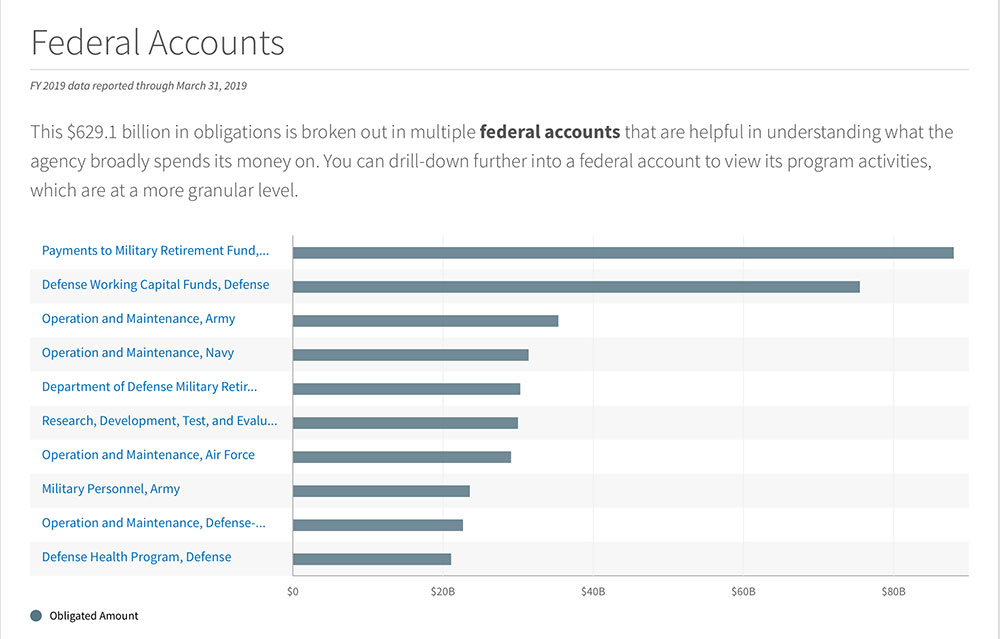 This chart shows how the Department of Defense spends its funding. To learn more about the federal budget and spending in detail, visit USAspending.gov.
Each year, the DoD submits a financial statement to be audited. The purpose is to provide an independent assurance that management has presented an accurate and fair view of its financial performance.
"The audit and more accurate financial statements can enable Congress and the public to receive a more accurate assessment of how the DoD spends its money, help the DoD fix vulnerabilities in information technology systems; prevent wasteful practices; and assist the DoD to improve operational decisions," stated the DoD Inspector General. 3
In 2018, DoD submitted its financial statement noting that it has the capability to "provide processes to reconcile fund balance with the Department of the Treasury." 4 This capability can allow DoD to determine how much money is available in its accounts at any given time. This is critical not only to an accurate financial statement, but to be able to make sound operational decisions based on balances in accounts.
By centralizing DoD's disbursing through the Department of Treasury, DoD is making an important step toward more reliable fund balances and providing better information for its financial statement.
Centralizing DoD Disbursing
DoD currently maintains four disbursing systems with nonstandard structures that all require vast supporting infrastructure and software. Its numerous interfaces, transaction postings, and edits across all systems require many crosswalks and translations, and manual interventions, which can lead to errors and open the door to potential fraud.
By gradually switching its multiple systems into a more centralized system using Treasury's disbursing service, DoD enables standardization. By using the same disbursing service as other federal agencies, DoD benefits from uniform business processes and built-in compliance with government-wide mandates.
"What Treasury disbursing does is leverage government capabilities," said Mark Easton, DoD Deputy CFO. "Automated tools can process a vast volume of transactions. Consolidation helps address complex infrastructure and process issues."
It will also save money. There is no cost to the DoD by maximizing the use of Treasury's disbursing services. Maintaining and auditing fewer systems and interfaces costs less. It also reduces time spent on processing and rework.
A Major Undertaking
Switching to Treasury disbursing began six years ago and is ongoing. By the end of this fiscal year, about $56 billion will be Treasury-disbursed. That number is projected to reach $134 billion by the end of 2020. By the end of 2022, approximately $493 billion of DoD will be Treasury-disbursed.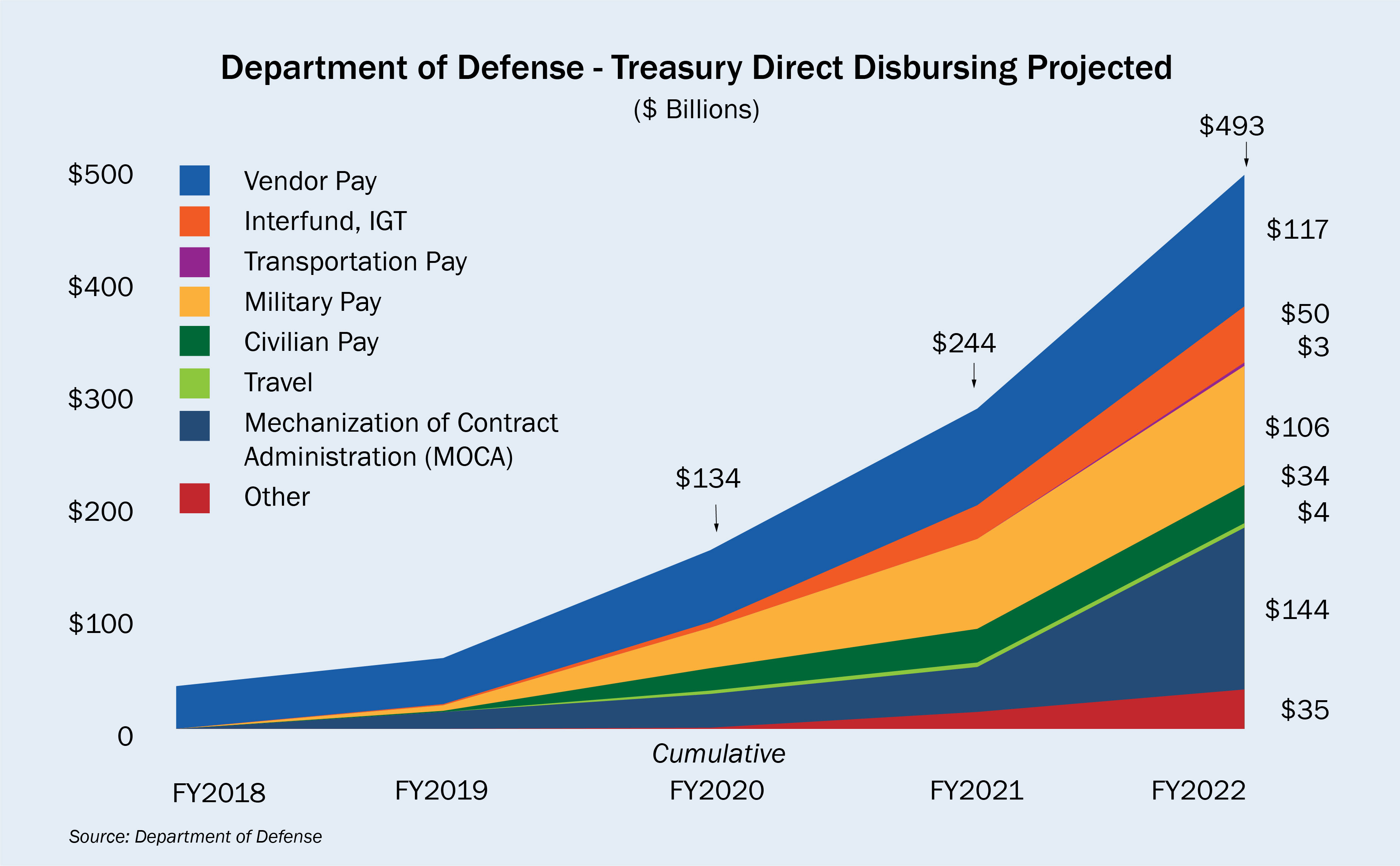 This chart shows projected disbursing for DoD's switch to Treasury broken down by payment segments. By FY 2022, cumulative disbursing is expected to be $493 billion.
Note: Civilian pay includes payroll payments for DoD civilian staff and salary payments for the Veteran's Administration, the Health and Human Services, the Department of Energy, the Executive Office of the President and the U.S. Agency of Global Media.
"We're migrating systems across all of the Department of Defense," said Deera Herron, Treasury Disbursing Solution Lead for the DoD.
Treasury now disburses payments to DoD's many vendors. Others types of payments are currently in transition to Treasury disbursing.
Treasury's Proven Capabilities
Treasury is well-positioned for the task. Treasury currently disburses 1.2 billion payments each year, accounting for 87% of all federal payments, including Social Security benefits and federal tax refunds. In addition to significant savings due to economies-of-scale, Treasury offers post payment services to assist DoD when payments are returned due to changed addresses or banking information. Treasury also provides a data analysis capability to help DoD identify improper payments.
"This is a positive step in government financial management," said Mr. Easton. "Treasury disbursing is part of the DoD's defense reform objective. It's a win-win for everyone. It provides cost-saving benefit to the taxpayers and enables agencies to focus on their missions."
---
1 U.S. Department of Defense, National Defense Strategy 2018, page 1.
3 U.S. Department of Defense Inspector General, "Understanding the Results of the Audit of the DoD FY 2018 Financial Statements," p. 6.