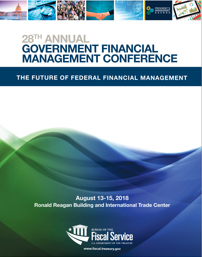 Must-See Highlights at This Year's Annual Government Financial Management Conference
Each year, we bring the latest ideas in federal financial management to the Annual Government Financial Management Conference. This year is no different. Check out some of the highlights in disbursing, collections, reporting, and shared services, as well as Treasury's new 10-year vision for federal financial management.
Digital Approaches to Disbursing
Learn more about how the federal government delivers more than $23 million in payments in many different currencies to recipients located around the world. The Bureau of the Fiscal Service's Walker Woods will explain how these payments travel to their destination countries and reach the proper payees no matter where they are in "Delivering Federal Payments Around the World" on day 2 of the conference.
Transforming Collections
On the first day, don't miss "The Centralized Receivables Service: Managing Receivables through Automation, Compliance, and Transparency," presented by Michael Stewart and Maricette Pina of Fiscal Service. This presentation will discuss the CRS Mission, key features, performance results, services and functionality offered, and agency feedback on how the program has helped with collection rates. On the second day of the conference, "Pay.gov ebilling," led by JoDee Devillier of Fiscal Service and Ryan Uehlein of FRB Cleveland will walk through the Pay.gov ebilling interface and show potential users how easy it is to use the interface.
Better Reporting
Financial reporting is a big deal. The Fiscal Service is leading the way in promoting the use of federal spending data with sites like USAspending.gov and the Data Lab. These efforts to connect with citizens and empower them to use federal financial data are key to providing a modern citizen experience that meets their expectations. On the first day, you will find "USASpending and the Data Lab: A New Frontier for Engaging with the Public," led by Daniel Caine and Justin Marsico of Fiscal Service. This session will explore approaches to connect with the public and use of federal financial data to improve outcomes, advance performance and increase transparency. We will also discuss the creation of Chief Financial Officer Dashboards that provide data driven insight.
Government invoicing (G-invoicing) as a long-term sustainable solution to improve the quality of intergovernmental transactions that is key in upcoming years to support more accurate financial management by federal trading partners. Learn more from Matt Conrad and Keith Jarboe of Fiscal Service about G-Invoicing on day 1 at "G-Invoicing, We Are Open for Business. Come On In!" This session will provide an update on Fiscal Service's ongoing efforts to implement G-Invoicing as a long-term solution to improve the quality of Intragovernmental Transactions (IGT) - Buy/Sell data, in support of more accurate financial management by Federal Trading Partners.
Making the Most of Data
We're taking steps to bridge the gap between GTAS and the budget. These changes reflect ongoing improvements that benefit the entire budget and financial community. These steps will improve the data quality underlying the President's Budget. On the second day, check out "GTAS: Help me with Validations and Edits" with Luke Sheppard and Dan Adams of the Fiscal Service. The session attendees will learn about some changes taking place with GTAS. They will also hear about common GTAS reporting issues and our experts will provide solutions and discuss future GTAS enhancements.
Those are just a few of the exciting presentations you'll see at the Annual Government Financial Management Conference. Visit https://fmvision.fiscal.treasury.gov/ for more information on the future of federal financial management. Stay tuned as we keep you posted on the latest.